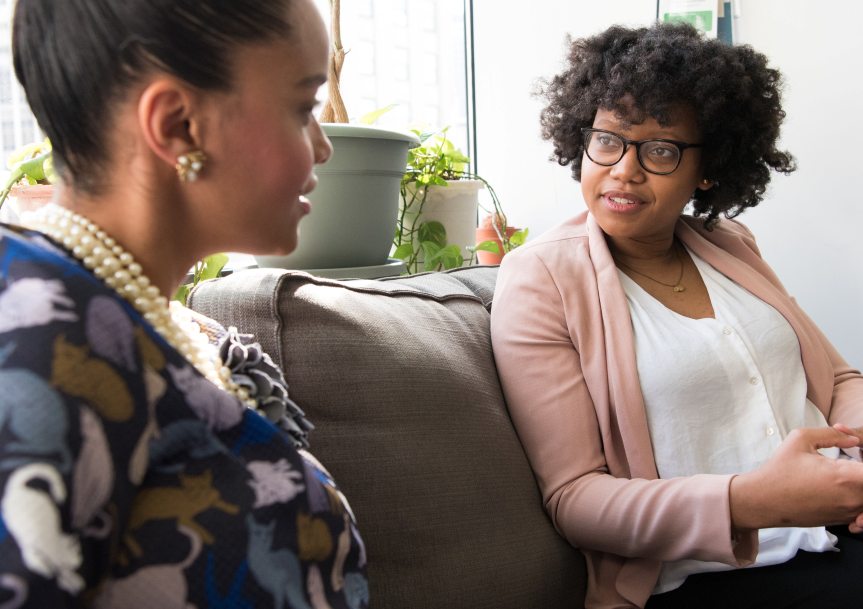 We get it – showing up at a clinic when you're worried about a possible STD or unplanned pregnancy is intimidating. You may have a million questions racing through your mind.
What is this place like?
What are they going to do to me?
Can they even help me?
Will they respect my privacy?
Are they going to judge me and my choices?
Your Client Advocate is there to answer your questions and walk you through your appointment from start to finish, (and beyond, if you want).
Client Advocates are volunteers who go through weeks of specialized training to listen to your needs, explain what's going on with your clinic appointment or other services, discuss your options, give you accurate information, and connect you with help inside our organization or with one of our community partners. Their role is to stand by you and support you.
When you arrive and get checked in, a Client Advocate will introduce herself (or himself – we have guys to help guys, too). She'll take you back through the medical clinic and give you instructions on any samples or testing you might need to do right away.
She'll walk you to a private room and go over your paperwork to make sure we've covered all the bases. She'll talk with you about your life situation to see if you have the support you need. She'll talk with you about your beliefs, feelings and plans, because we want to support you as a whole person – feelings and all.
If you're having a pregnancy test, your Advocate will give you the results as soon as they're ready. Getting a pregnancy test can be a very emotional moment – whether the results are positive or negative. Your Advocate will give you space to process those feelings. All our Advocates keep an ample supply of hugs, Kleenex, and caring words for anyone who wants them.
If you need an ultrasound, follow-up care, help with Medicaid, a referral to an OBGYN, to register for our education programs, help with an unsafe living situation, or any other type of practical support, ask your Client Advocate! That's what they're there for.
Your Client Advocate will ask permission to keep in touch. We always respect and protect your privacy, so we will only contact you in the ways you approve – text, email, phone, or by mail. If it's okay with you, your Advocate will check in from time to time to see how things are going and if there's anything else you need. We're here to serve your needs, and we believe the best way to do that is to build a warm, caring relationship.
If you've been thinking about calling us, don't put it off. Our Client Advocates (and all our staff and volunteers) are here to help.
We can perform pregnancy tests on a walk-in basis whenever our doors are open. Our other clinic services require an appointment – call us at (205) 979-0302 or request an appointment online today.